Welcome to the Design Technology page
On this page, you will find useful information related to the topics covered in DT across the school as well as the way in which skills progress in the subject throughout the school. The gallery below will provide you will photographs of 'DT in action' across the school.
The DT Curriculum
DT is taught once every term and by the end of each key stage, children will have covered a range of topics including: Structures, Textiles, Mechanisms, Food, and in KS2 Electrical Systems. As there are a lot of skills to teach which means sometimes the topics are alternated in each year group.
Click here to download our DT Curriculum document.
How we teach DT at Red Hall
Our DT Curriculum aims to provides our pupils with creative and rich learning experiences as well as to provide opportunities to inspire curiosity. We view DT as an opportunity for pupils to be creative and imaginative. We want our children to be critical thinkers, solve problems, design purposeful projects, and know a wide range of technical knowledge.
Each term there is a DT focus in every class.
When focusing on skills required, the children will learn different techniques to build up to a final project at the end of the term.
The children will learn about significant individuals e.g. designers, craft makers, architects etc. as well as ground-breaking products.
Children have the freedom to choose their own products and we follow the children's interests as best we can.
In Year 1/2 we looked at wheels and axels. One of our Year 1 pupils made a locomotion with wheels. We have also made sock puppets!
In LKS2 children have focused on levers and linkages. One Year 4 pupil made a crocodile mouth that moved!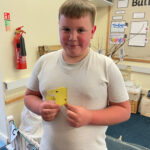 Virtual Learning
As part of our virtual learning, the children were sent ingredients to make food at home. Look at the amazing food our Reception children made cookies…