We keep going. We keep growing.
In Year 4, our class teacher is Mrs Marshall and our teaching assistant is Miss Moore. We try our best in everything we do and make sure we have fun along the way. We understand it's OK to make mistakes, as they help us to learn. We challenge ourselves, and feel proud of the work we produce.
We believe in every single one of the children in Year 4 and we will do our absolute best to help them to achieve everything we know they are capable of.
If you have any queries regarding how your child is learning at home, don't hesitate to email the school, or chat to me at the end of the day and I will help the best I can. Mrs Marshall.
Important Information
Spellings/Phonics are given out as part of their homework and children are tested the following week.
Reading is a vital skill, we expect children to be reading at home at least 3 times a week. Please sign the reading record each time they have read- even if this is only a number of pages.
We have PE every Wednesday and Thursday, so children can come to school in their Red Hall PE Kits.
We have a times tables test at the end of the year, so encourage your child to practice their times tables whenever they can.
PE expectations

Our PE days are Tuesday and Wednesday. Please ensure your child comes to school in their PE kit. This must be a white t-shirt and red shorts. If your child will be having PE lessons outside, they may wear tracksuit bottoms however indoors, they are required to wear shorts. Earrings MUST be removed for safety purposes.

Literacy
This half term we have focused on instruction writing and fractured fairy tales. We have learnt of the importance of having the instructions in the right order. We had to reorder how to make fairy cakes. Our reordering was so good Mrs Marshall followed the instructions and made cakes for us all! We also had lots of fun making our own videos of how to make a paper hat.
We had lots of fun reading different fractured fairy tales and thinking about how they were different from the original. One of our favourites was Jack breaks the Beanstalk by Sue Nicholson. This was about Jack loving to climb but he wasn't allowed to climb the new beanstalks in his garden. We then wrote some of our own amazing fractured fairy tales.
As always, we have been encouraging the children to read as much as they can. Class 4 have seen some amazing results on accelerated reader quizzes and have loved reading our class novel together.
Children are expected to read at least 3 times a week, however those who make outstanding progress often read 5 or more times! Regular and extra reading may just impress enough for a house point!
READING TIP: The children who make the best progress with their reading often have two things in common… they read for pleasure and also experience regular 'book chat' with an adult. Discussing vocabulary and comprehension (e.g. "How do you think the character is feeling?"… "Why do you think the character did that?"… "What do you think will happen next?") can make a huge difference!
Feel free to contact me via the school office if there's anything else I can do to support your child's learning!
Maths
In maths, we have been looking column addition and subtraction. We have also been working very hard on times tables and have had lots of fun practicing on Times Table Rock Stars.
We have been working very hard on times tables and have had lots of fun practicing on Times Table Rock Stars.
Don't forget, this summer Year 4 will be taking part in the MTC – the new Multiplication Tables Check introduced by the government. They will be expected to know ALL times tables at speed!
Topic
In our history unit this half term, we are studying the Ancient Romans. We enjoyed dressing up as a Roman soldier. We have lots of questions that we are looking forward to finding the answers to this half term such as "What weapons did the Romans use?", "What did they eat?" and "What jobs did they have?"
We have learnt that they had a huge empire. We loved hearing the story of the battles between the Romans and Boudicca and did some fantastic "Wanted" posters.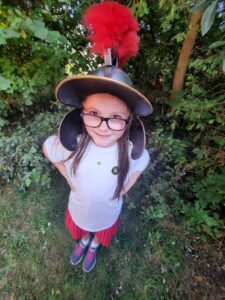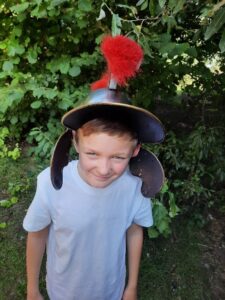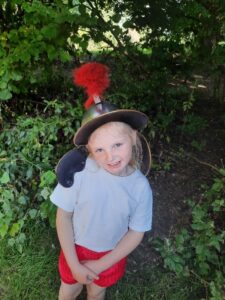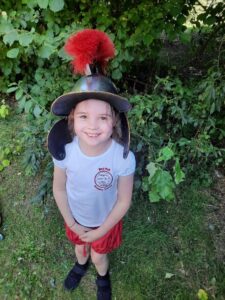 PE
We have been learning how to play Tag Rugby on a Wednesday with Mr Wilson. We then had an inter-house match with the year 5s, which was great fun. Everyone played superbly, using their dodging, catching and communication skills. It was a very close competition but the overall winner was Marie Curie. Well done Marie Curie!