Where Learning is WHIZZ POPPING FANTASTIC!
Year 1's teacher is Miss Wharton.
This year in class 1 we have developed a new way of learning. Children will have access to continuous provision and will complete differentiated challenges in each area. Our challenges so far have been… recognizing and using coins in the shop, writing tricky words in the writing area, operating a bee bot and setting it an algorithm, identifying places in the UK, recreating a story using puppets in the reading area, creating words using the phonic stones.
Children will still access whole class learning for subjects: Maths, English, Phonics, Topic, Science, RE, PSHE, Computing, PE, Music and Art. Miss Wharton will set tasks of each subject in their books which will be completed during group work.
PE takes place on a Monday and a Friday. The PE kit consists of a white top, red shorts and trainers.
How your child is learning at home is very important to us. You can email Miss Wharton and send any photos or work to c1@redhall.darlington.sch.uk.
Virtual Learning
Class 1 children will access their learning through Google Classroom .
Phonics
It is really important the children sound out their writing. There is a video below which explains how to pronounce all the sounds to help your child:
Games
Phonics games – https://www.phonicsplay.co.uk/
Timetable Rockstars – https://play.ttrockstars.com/
Free ebooks and Spelling games – https://www.oxfordowl.co.uk/ Our class username is Class1RHP and the password is Class1RHP
Classroom Secrets Kids has reading, writing and maths activities – https://kids.classroomsecrets.co.uk/
Topmarks has lots of games and activities for a wide range of subjects that can be played on a tablet or laptop – https://www.topmarks.co.uk/
English
There will be a English lesson and task each day on Google Classroom. Some lessons will be live with Miss Wharton and some will be independent tasks.
Our text types this term have been poetry and instructions.
Maths
There will be a Maths lesson and task each day on Google Classroom. Some lessons will be live with Miss Wharton and some will be independent tasks.
In this half term we have learnt about fractions, subtraction, addition and time.
Wider Curriculum
There will be a set of tasks on Google Classroom for wider curriculum subjects.
Look at some of WOW pieces of home learning below!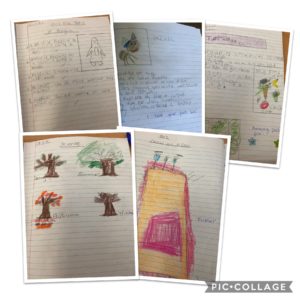 Mental Health Week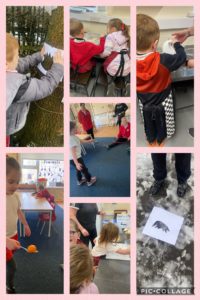 Reminders
Make sure you read at home every night for at least 10 minutes and get it signed at least three times a week (if you have lost or forgotten your reading record you can always download one from the School Library page).
If you need to speak to Miss Wharton, you can write a note in the child's reading record or make an appointment at the office.
Phonics
Phonics is a way of teaching children to read skillfully. Children are taught how to:
recognise the sounds that each individual letter makes;
identify the sounds that different combinations of letters make – such as 'sh' or 'oo'; and
blend those sounds together from left to right to make a word.
Children can then use this knowledge to 'decode' new words that they see or hear. This is the first important step to learning to read.
By the end of the year all the children will have sat a Phonics Screen. The Phonics Screening Check is meant to show how well your child can use the phonics skills they've learned up to the end of Year 1, and to identify students who need extra phonics help.
The Phonics Screen will consist of showing your child forty words, some are nonsense words and some are real words.
Here are some examples of the real and alien words we will ask your child to read.
There are over forty sounds we teach the children, here is a video to help you with the pronunciation. Watch our sound pronunciation guide.
Online resources available
Ruth Miskin Parents' Page:
http://www.ruthmiskin.com/en/parents/
Free e-books for home reading:
http://www.oxfordowl.co.uk/Reading/
Online Games: