At Red Hall we take Physical Education very seriously. Consequently, due to hard work from both staff and children, we have experienced a rise in the standards of PE in our school. It is our aim to continue and improve on our successes and the only way of doing this is to make sure all children in our school are participating in PE lessons wearing full Red Hall PE Kit (the table below shows each classes PE days). It would be very helpful if every child could have a PE kit in school every day, especially in the summer term as this allows us the opportunity of getting children active at any given opportunity.
PE days for next half term
Day
Year Group
Kit needed
Monday
Year 1 – 6
Full Red Hall PE kit (red shorts and white tshirt)

Plain black or grey leggings can be worn over the top of Red Hall kit

Tuesday
Year 1 & 2
PE kit

PE kit

Thursday
Year 4
Swimming kit
Friday
Year 5

Year 3

Year 6

Swimming kit

Red Hall PE kit – for session with external coaches

Red Hall PE kit – for session with external coaches
Reminder
Red Hall PE Kit is required for all lessons. This kit consists of red shorts, a white t-shirt and trainers. Your child is more than welcome to wear plain black or grey leggings / tracksuit bottoms over their PE kit, however these must be removed for the lesson.
Our Red Hall kit looks like this…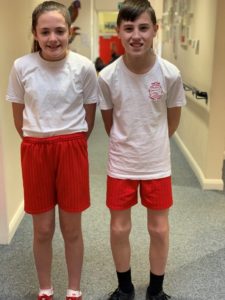 Results
Our school is a busy place sometimes and it has been tricky fitting everything in! Our wonderful Sports Council have enjoyed stepping up and playing a big part in the role of PE and Sport at Red Hall. They have kept on top of the PE cupboard, ensuring this is tidy. In addition to this, they have been giving up their lunchtimes to train some of the children for their upcoming competitions. Thank you so much for this! You are superstars!
Sportshall Athletics
Year 2 went to Multiskills at the Dolphin Centre and they loved it! We tried six new activities led by young leaders, even Miss Newhouse and Miss Wade got involved. The children had to work on team work, balance, and coordination. Above all else the activities were fun! The children didn't see this as PE and asked when they would next go back. We've used some of the activities as warm up sessions in our PE lessons. The children tried so hard and were so respectful to the young leaders.
School Games Values demonstrated: Self Belief and Teamwork
Basketball
For two weeks, daily opportunities were given to Year 5 children to take part in Basketball sessions at lunchtime. This meant they had to give up their own time. We had 8 children who gave up their lunchtimes and showed a huge amount of effort and determination. I watched them grow in confidence and develop their team work skills. I loved seeing the smiles on their faces as their skills in dribbling and shooting became sharper and more consistent.
School Games Values demonstrated: Respect and Passion
Dodgeball
On 24th January, 8 children from year 4, who had shown an outstanding effort in dodgeball sessions, were asked to participate in a dodgeball festival at Hurworth Secondary School. Children looked brilliant in their Red Hall PE kits and represented the school perfectly. They were polite, honest and considerate throughout this event!
School Games Values demonstrated: Honesty and Determination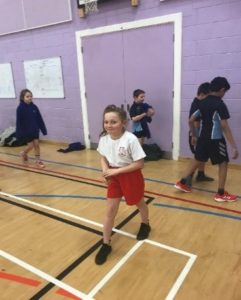 Year 3 and 4 Tennis competitions
On Tuesday 4th February and Tuesday 11th February, Ms Clemmons took 8 pupils in Year 3 & 8 pupils in 4 to Wyvern Academy and Hurworth Academy, to compete in tennis competitions. The children tried exceptionally hard and smiled throughout the event! Ms Clemmons said she was very proud of our children and their determination during this festival. She said, "Their resilience, determination and competitive attitude shone through each one of them and they were a credit to our school"
School Games Values demonstrated: Passion and Determination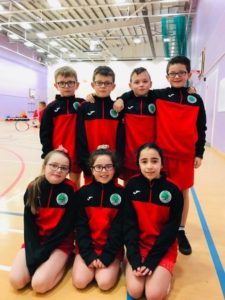 Upcoming Events – keep up to date with the events the children will be participated by checking this section of our page. Teams will consist of selected children and not everyone in the age group stated will be participating.
| | | |
| --- | --- | --- |
| Date | Year group / children | Event |
| 12.3.20 | Year 3 – 6 children | Boys Football Cup |
| 10.03.20 | Years 3 – 6 – children have been selected | Dance Festival |
| 03.04.20 | Year 4 – 6 children | Football Tournament |
| 27.04.20 | Year 3 & 4 | Quad Kids |
| 22.05.20 | Year 5 & 6 | Rounders |
| 02.06.20 | Year 5 & 6 | Girls Cricket |
| 04.06.20 | Year 5 & 6 | Cricket Plate |
| 10.06.20 | Year 4 – 6 | Town Athletics |
| 11.06.20 | Year 5 & 6 | Girls Netball Plate |
| 15.06.20 | Year 3 & 4 | Netball |
| 24.06.20 | Year 2 | Quadkids |
| 01.07.20 | Year 3 & 4 | Cricket |
| 01.07.20 | | Sports day |
| 01.07.20 | | Sports annual award ceremony |
| 03.07.20 | Years 5 & 6 | Cricket |
** Children will know over time, if they are taking part in these events.