"Play is the highest form of research"
Albert Einstein
Our teacher is Mrs Bashford and our teaching assistant is Miss Welsh.  In Reception we want the children to have fun with their learning, be curious and creative, try their best and become independent learners.
Reception is a very important and exciting time where the children learn skills to enable them to become confident and independent learners. The children have lots of opportunities to learn and explore through meaningful play within the provision. The children will learn through a mixture of adult led and child initiated learning. Our aim is to create an inquisitive and creative learning environment to engage and encourage creative thinking.
We observe what the children can do, how well the children are learning and use this to plan their next steps. We document this learning in our floor books, wall displays and in the children's Learning Journeys. We try our best to cater to the children's interests and to inspire and engage the children. We do not just learn indoors, we take our learning outdoors as often as possible, in all weathers! We do various activities every day and send parents a message via Marvellousme to inform you of what your child is learning.
How your child is learning at home is very important to us. You can email us at school to share experiences or fill in a Wow moment for your child's Learning Journey. By letting us know your child's achievements and enjoyments outside of school we can build upon these experiences in school.
Our Class Promise
At the start of our year in Reception we made a class promise, created from the children's ideas of what is important to them.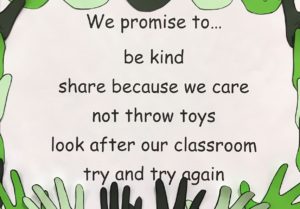 Virtual Learning
We are looking forward to welcoming back the children on Monday 8th March, we are so proud of how well the children have engaged in online leanring and completing home learning tasks. We are also very grateful for the support from parents and carers, we couldn't do this without you.
During any future periods of isolation, children will be expected to attend online lessons and engage in learning and activities with teachers. They will also be issued with a paper based Home Learning Pack to complete along side their online learning sessions. Mrs Bashford will also upload videos and learning activities in the sections below for children to complete while they are at home. Reception children will be expected to access the videos and complete the tasks set just as we would complete our learning activities in school. These activities will also support the children's learning when they return.
We always like to see how the children are getting, so if we do need to isolate again, please share photos and videos on the private Red Hall Early Years Facebook Group or you can email the school.
English
Last week we shared a very special story in our class:
What We'll Build by Oliver Jeffers – YouTube
We talked about the illustrations and what they could mean, what we thought was happening in the story and what could happen next. Then we read the story together and shared what we would build with our toolbox and the things that are special to us.
This week we will developing our ideas and writing using this story. We are also planning and designing our own creations before contructing them using recyclable materials. Please remember to bring in any recycling such as cardboard boxes, tubes and plastic to help us with our construction.
This term we will continue to work on our letter formation and developing our writing skills. In particular, we will be developing our labelling and sentence writing skills. Our new sounds for this term will be c, k, u, b, f, it would be a huge help to start exploring these sounds with the children at home.
We will also continue to learn our tricky words – Tricky Words and Sight Words Song – YouTube
Remember to keep practising writing names, letter recognition and letter formation at home too!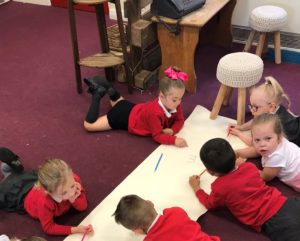 Maths
Remember to keep practising counting, number recognition and number formation at home too!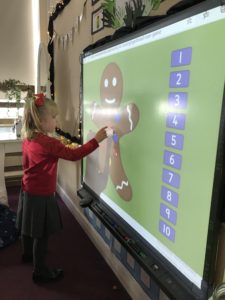 Topic News
Sadly due to lockdown we didn't get to explore our Spring 1 topic like we usually would so…
Our new topic for Spring 2 is 'A moment in time.'
We don't want to say too much but it is going to be 'out of this world!'
We launched our hook on Tuesday 23rd February in school and online, we can't wait to explore this further when our class are all back together.
Games and activity videos
Topmarks has a great range of subject related games and activites that can be accessed on a tablet or laptop – https://www.topmarks.co.uk/
Jack Hartman –  I love to rhyme – https://www.youtube.com/watch?v=RVophT8naUM&t=53s
Alliteration – The Alliteration Song – YouTube
Cosmic Kids Zen Den – Superpower Listening | Cosmic Kids Zen Den – Mindfulness for kids – YouTube
Dance Freeze – https://www.youtube.com/watch?v=2UcZWXvgMZE
Action song –  I'm so happy –  https://www.youtube.com/watch?v=dUXk8Nc5qQ8
Shake our sillies out – https://www.youtube.com/watch?v=03zqJQJRLN0
Reminders for children in school:
Homework will be given out on a Monday. It is up to you and your child to complete one piece of homework each week. Homework books need to be returned to every Monday for homework to be marked.
Each child must bring their book bag each day, along with their reading record and book.
Make sure you read three times a week with your child. We encourage you to reread books with your child, this will help your child to remember repeated phrases and the more they see words the quicker they will become at reading them.
Please label everything! Jumpers, cardigans and water bottles are essential.
We do Outdoor Learning on a Monday and sometimes a Thursday afternoon in all weathers.
We use our outdoor provision daily so wellies and a change of clothes are essential, please bring in a set to leave in school.
Each child needs arrive in PE kit on Wednesday mornings, ready for our PE activities.
Key Dates
To be confirmed.
| | |
| --- | --- |
| Date | Event |
| Tuesday 23rd February | Hook for our new topic, in school and online. |
| Monday 8th March | Children return to school. |
Photo Gallery
Our Photo Gallery will be updated in coming weeks.