"Play is the highest form of research"
Albert Einstein
Our teacher is Mrs Bashford and our teaching assistant is Miss Evans. We also have a new Teaching Assistant joining us in Early Years this term, Miss Gamble.
In Reception we want the children to have fun with their learning, be curious and creative, try their best and become independent learners.
Reception is a very important and exciting time where the children learn skills to enable them to become confident and independent learners. The children have lots of opportunities to learn and explore through meaningful play within the provision. The children will learn through a mixture of adult led and child initiated learning. Our aim is to create an inquisitive and creative learning environment to engage and encourage creative thinking.
We observe what the children can do, how well the children are learning and use this to plan their next steps. We document this learning in our floor books, wall displays and in the children's Learning Journeys. We try our best to cater to the children's interests and to inspire and engage the children. We do not just learn indoors, we take our learning outdoors as often as possible, in all weathers! We do various activities every day and send parents a message via Marvellousme to inform you of what your child is learning.
How your child is learning at home is very important to us. You can email us at school to share experiences or fill in a Wow moment for your child's Learning Journey. By letting us know your child's achievements and enjoyments outside of school we can build upon these experiences in school.
We are trialling in the moment planning so we can respond to the children's interests as they develop. We have also been trialling Tapestry to log some of our children's learning. If your child has been added, you will have received an invitation to access this. We would love to hear your feedback on this and please feel free to add photos and vidoes from home. We love seeing these moments you and the children are proud of.
Our Class Promise
At the start of our year in Reception we made a class promise, created from the children's ideas of what is important to them.
Topic News
Our school theme for Summer term is 'Dream Big'. This topic has led us to explore some interesting questions…
What do we want to be when we grow up?
We have looked at jobs that grown-ups do and the jobs we would like to do…including singing vets, doctors, digger drivers…and so much more.
What does it mean to be a grown up?
We have looked at the human lifecycle and how we change as we get older and the new things we are able to do as we reach certain points in life.
What can I do now and what do I want to be able to do?
We have revisited our Red Hall journey and looked at how much we have changed since we started at Red Hall. We have thought about the things we are good at now and the things we still want to learn to be able to do.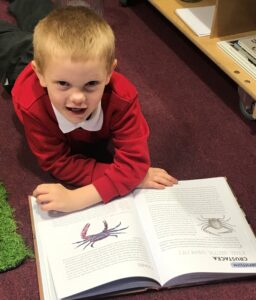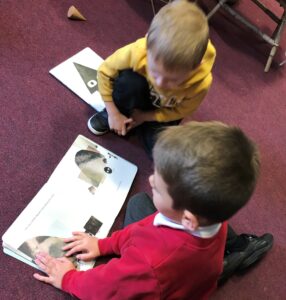 English
In Literacy we are really enjoying the story Izzy Gizmo, about a little girl who loves inventing things to help people. We have explored characters in the story, the emotions Izzy felt when things didn't quite work out and when they did, written letters to help and even designed our own amazing robots – mostly to help with cleaning!
We also continue to practise our tricky words – Tricky Words and Sight Words Song – YouTube
Some children are focussing on rhyme and alliteration in Phonics before moving on to segmenting and blending words. We follow the RWI programme for Phonics and are beginning to develop our sounds, letters and formation to help with our writing.
Remember to keep practising writing names, letter recognition and letter formation at home too!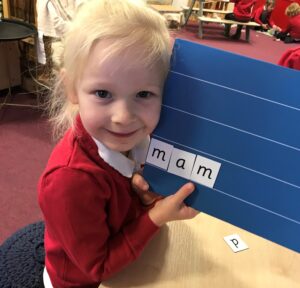 Maths
In Maths we have been exploring shapes and weight of materials as we sorted them to create our designs and robots!
We have also been working on our number bonds, exploring addition and subtraction of numbers to 10.
These songs are fantastic to help the children with their Maths skills:
Counting 1-10 Song | Number Songs for Children | The Singing Walrus – YouTube
This is document is brilliant to help the children practise their number formation too.
Remember to keep practising counting, number recognition and number formation at home too!
Home Learning
Children are expected to complete a homework task each week from the grid in the front of their homework books. There are other activities you could be doing with your children at home to ensure they make as much progress as possible this academic year, especially after their experiences of isolations and lockdowns during the pandemic.
Social Skills such as sharing and playing together with friends are opportunities which have been limited during the pandemic. Play games with your children, sing rhymes with them, go for nature walks and encourage them to play out in all weathers – we do at school!
Reading to your child / with your child every day is proven to help support develop their early reading skills. There is nothing a child loves more than snuggling up with a book a bedtime.
Writing with your child and drawing shapes and pictures will help with pencil grip and formation of shapes and letters. Please encourage your child to try writing their name at every opportunity.
Number skills are really important for children in Reception to help prepare them for addition and subtraction. Please practise when ever you can, counting steps, items in the kitchen and so on.
Key Dates
| | |
| --- | --- |
| Date | Event |
| Tuesday 17th May | EYFS School Disco |
| Thursday 26th May | Jubilee Street Party |