"You're braver than you believe, and stronger than you seem, and smarter than you think"
– A.A. Milne/Christopher Robin
In Year 5 our teacher is Miss Johnston and our amazing teaching assistant is Miss Clemmons. This year Class 5 are also very lucky to have a student teacher, Miss Banks,  supporting them with their learning. They want every child in the class to achieve their full potential and make good progress! In class 5 we love books and love to read for pleasure. We really enjoy our topic work – we can't wait to be inspired and produce some fabulous pieces of writing and creative art work.
How your child is learning at home is very important. If you have any queries, please do not hesitate to email the School, and we will help you as best we can.
Key Dates
This half-term we have some key dates coming up..
Friday 12th February – Break up for half term
Monday 22nd February – School / Online Learning begins again 🙂
Virtual Learning
As we are currently in another national lockdown, all children at home should be accessing online learning through Google Classroom. The timetable of what learning will be taking place is on Google Classroom and teachers will set a live link every morning for the children to join. This is not a choice; it is an expectation that all children are engaging with their learning.
Children have been given their own Gmail email address and password. This email account is for the children to contact their teachers and vice versa, this should NOT be used for children to contact each other.
Home learning books/packs should be handed in on a Friday after 12pm and collected again on a Monday after 12pm. All home learning work will be marked on the Monday morning before collection.
Useful Websites
Times Table Rockstars – https://ttrockstars.com/
MyOn – https://www.myon.co.uk/login/
English
Our virtual English lessons this term have focused upon poetry. We are currently learning about the Highway man and the poetic features it includes. At the beginning of term, we looked at tanka and shape poems. The children enjoyed learning about the number of syllables needed for each line in a tanka poem and produced some fantastic poems themselves!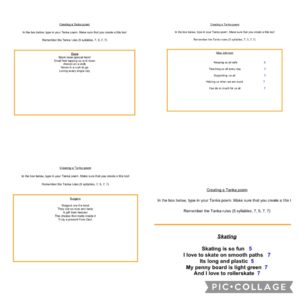 Maths
This half term we have been looking at decimals. Children have started to understand the values of each digit after the decimal point and are now able to add and subtract decimals. We are moving onto fractions, where we will be looking at proper fraction, improper fractions, and mixed numbers. Our maths display has become more child-led where the children are taking more control over what they would like to display and show. We look forward to sharing this display with you!
Science
In Science we have been looking at the properties of materials. The children have conducted two experiments, the first, was dissolving materials into water and deciding whether they dissolved or became a mixture. The second, a chromatography test, where the children could see the different colours that are mixed together to make a specific colour of felt tip pen. The children have loved this topic and have engaged well, especially as the majority of children are conducting these experiments at home.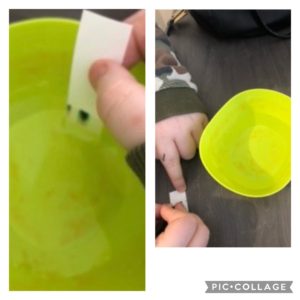 Topic
This term we are looking at Kings and Queens. We are looking into the history of each individual that helped shape the UK/England. We look forward to share with you the case studies the children create.
Homework
Homework is given out on a Thursday and is due in on Tuesday.
Spelling tests are on a Tuesday.
Reading at home should be done at least 3 times per week. The staff in Y5 check children's reading records daily.
Homework will be a variety of maths, grammar and topic, relating to learning the children have completed in class.