Never give up on what you really want to do. The person with big dreams is more powerful than one with all the facts.
Albert Einstein
In Year 3 our teacher is Miss Henry and our fantastic teaching assistant is Mrs Large. This year we are also very lucky to have a student teacher, Mr Thompson, supporting us with our learning. In Class 3, we know that it is OK to make mistakes, as this is how we learn and find out new things. Miss Henry, Mr Thompson and Mrs Large believe in each and every one of us and are always encouraging us to be the best that we can be!
Last academic year was a funny one, full of uncertainty for many. What we are certain of in Y3, is that we, as your teachers, will do everything we possibly can to help and support you through this challenging time and your transition into Key Stage 2. We promise to make your learning exciting, engaging and purposeful, whether this be in the classroom or during periods of time working online. Your well-being is what is most important to us, which is why we now have 'Well-being Wednesdays' – where we spend part of our day taking care of our own well-being and spend some time away from academic studies, completing activities which encourage you to spend time with the people you love the most and develop social skills which may have been impacted on due to lockdown.
Please remember to never be ashamed to ask for help. Asking for help is a great strength. Anything you need, we are here for you. Never forget that!
We are so excited to have all of our pupils back in the classroom with us and look forward to sharing many more fantastic experiences. We are looking forward to more exciting Science experiments, lots of outdoor learning opportunities to inspire our writing and learning skills for life!
How your child is learning at home is very important to me. If you have any queries, please do not hesitate to email our class email, and I can help you as best I can!
Miss Henry 🙂
Key Dates
This half-term we have some key dates coming up…
Tuesday 2nd November – Celebration Evening – Please book your space via ParentMail.
Friday 4th November – TTRS Day – Dress like a Rock Star
Monday 6th December – Movie Evening (£4 per child)
Tuesday 7th December – Family Christmas Dinner – Please book via ParentMail.
Thursday 9th December – Christingle & Christmas Dinner Day
Friday 10th December – Christmas Jumper Day – Please donate £1 if you can for the charity we are supporting.
Monday 13th December – Christmas Fayre (2:45-4pm)
Tuesday 14th December – Celebration Evening – Please book your space via ParentMail.
Wednesday 15th December – KS2 Christmas Production
Thursday 16th December – Pantomime @ Billingham Forum
Friday 17th December – 100% Attendance Award (more details to follow!)
Friday 17th December – END OF TERM!
Topic News
Our topic theme for this half term is "Tell Me A Story…"
To begin our new topic, we looked at some interesting Artwork. We discussed where we thought this Artwork may be displays, who could have made it, what materials might have been used and what was happening in the Artwork. Our thoughts are that these pieces of Art were created by cavemen. Now we are beginning to explore whether our thoughts were right.
So far in our topic, we have found out that the period in history we are exploring is Stone Age. We have learnt about what is meant by prehistory and why this period of time was called 'Stone Age'.
We have learnt about Hunter-Gatherers living during these times and what resources would be assets to them. Another thing we have identified that due to their living conditions, there will be many threats!
Two threats we were particularly interested in were weather and animals. This got us thinking about how the people living in this time managed to protect themselves from this. Many of us thought they would need to build a shelter and considered what they may have used. We explored our woodland and build our own shelters, using materials we think people living in the Stone Age would have used.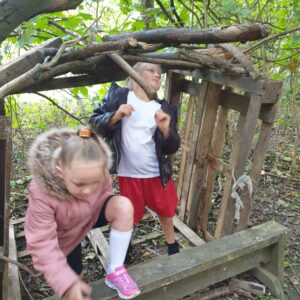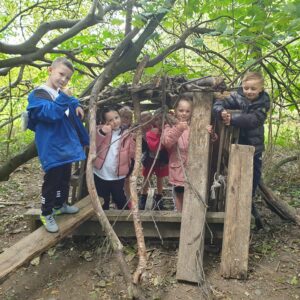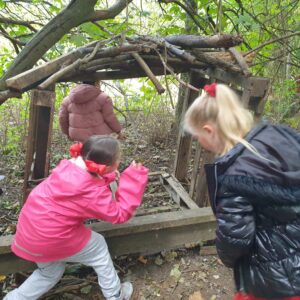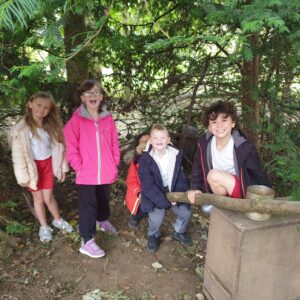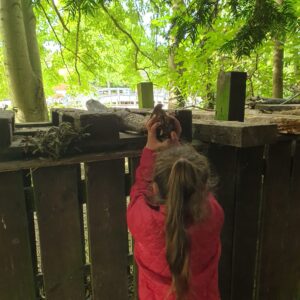 Keep visiting us to see what else we explore! 🙂
Pictures are coming soon!
Homework & PE
Homework has been reviewed!! Please see below the expectations for your child's homework:
Your child will read at least 3 times a week to an adult at home. Reading to or with your child is invaluable and will help them so much with their progress in reading. Reading books aloud to children stimulates their imagination and expands their understanding of the world. It helps them develop language and listening skills and prepares them to understand the written word. Even after children learn to read by themselves, it's still important for you to read aloud together.
Your child will access TTRS (Times Tables Rock Stars) regularly at home. As Maths Lead, I cannot stress how important knowing your times table facts is! If your child is fluent in this recall, they will be able to access a range of mathematical concepts much easier in school. There is now a Multiplication Check in Year 4, as the expectation is that all children know their multiplication facts to 12×12. Please support us in this and encourage your child to take some time over the weekend accessing this fantastic, fun resource!
Spellings will be sent home fortnightly. Developing your child's spelling skills will improve confidence in writing.
Every half term, there will be a Topic Project Grid. This will be something that you can work on with your child, or allow them to do themselves if they wish to. Not all tasks will be required to be complete, meaning that your child can select a few which appeal to them. For each project I will provide more details when projects are sent home.
PE expectations
Our PE days are Tuesday and Wednesday. Please ensure your child comes to school in their PE kit. This must be a white t-shirt and red shorts. If your child will be having PE lessons outside, they may wear tracksuit bottoms however indoors, they are required to wear shorts. Earrings MUST be removed for safety purposes.
Home Learning
Your child will be given homework weekly. However, there are other activities you could be doing with your children at home to ensure they make as much progress as possible this academic year, especially given the unpredictable years we have all recently experienced!
Reading to your child / with your child every day is proven to develop their cognitive skills. Your child will have opportunities to read to an adult in school at least twice a week, and their progress will be even better if you continue to do this at home. There is nothing a child loves more than snuggling up with a book – especially as the autumn nights draw closer!
Social Skills are one area that children have not been able to develop as well over the pandemic as they have missed out on so many opportunities to socialise with family and friends. Play games with your children, sing rhymes with them, go for walks, encourage them to play out – whatever the weather!
Multiplication Facts are essential to your child making good, rapid progress in Maths. If you child is confident in their multiplication facts, they will access wide range of mathematical concepts much more easily. Your child has a login for Times Tables Rock Stars (TTRS). Please encourage them to access this at home!
Useful Websites
Here are some links to some key learning websites which your child may access at home :
If you require any login details for any websites, please contact me and I can pass these onto you!