'Every child is a genuis' – Albert Einstein
Stepping Stones is our KS1 Nurture Provision, led by Mrs Piper and supported by Mrs Lowery.
In Stepping Stones, we use a mix of teacher-led lessons, hands-on learning and continuous provision (COOL Time) to reach our individual targets. Children have the opportunity to develop their own projects as well as completing work in their English and Maths books. Your child also has their own book that is updated with the learning they have completed within the continuous provision.
Stepping Stones pupils have been selected to attend morning sessions that are catered to their individual social and emotional needs, as well as learning needs for Phonics, Maths and English. The classroom is fully resourced and has a relaxed, nurturing atmosphere to allow our children to learn in a calm manner and get the most from their learning. Children are encouraged to develop a love for learning through practical and fun sessions.
We have several practical working areas and a reading corner/calm space. Children are fully encouraged to become independent learners.
How your child learns at home is also very important to us. You can email us any pictures of your child to include in their COOL books, as well as any video's. We'd love to see what they enjoy doing at home!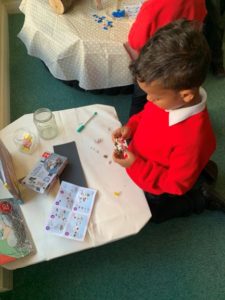 Virtual Learning
Individual timetables will be e-mailed to our children to ensure they continue to access their learning and have the opportunity to share what they have been doing at home until we are reunited! Tasks will also be uploaded to Google Classroom, tailored to each child frequently.
English
In our English lessons, we are learning to rhyme, write initial sounds and build sentences. We have learnt the story of Little Red Riding Hood and can now re-tell the story with actions! Our children are also becoming confident at taking part in role-play and recreating the story. We had a very convincing Big, Bad Wolf and Woodcutter…
Maths
In our Maths lessons, we continue to practise counting and recognising numbers and some of our children can now write numbers to 100! The children love our practical lessons. We have even created a shop to learn about addition, subtraction and money. Our children continue to wow us with their enthusiasm!
Reading and Phonics
In our Phonics lessons, we are learning the sounds of the alphabet and how to blend the sounds into words. This video can help you support your children in learning and recalling many of their Phonics sounds.
We have listened to lots of stories to understand how stories are structured and learn new words. Some of our children have even started to play the role of the teacher and tell us a story. Wow!
Red Group Phonics learning until our return to school:
Emotional Literacy
Emotional Literacy is the ability to understand and communicate our emotions, a very important aspect of our learning in Stepping Stones.
We have played lots of games to start to recognise how we are feeling and why, with some of our children starting to make these important links.
Another aspect of our Emotional Literacy lessons has been developing the ability to understand how to be a good friend; we are kindness superheroes!
We are also learning to be confident and enthusiastic learners, developing resilience and identifying what makes each and every one of us amazing!
Reminders
Homework is given out on a Friday and comes back every Wednesday.
Key Dates
Children's Mental Health Week
What a fun-filled week this was! We created art using loose parts and natural materials, took part in various challenges and created worry monsters, among other things. The children loved it! Well done to our children who also took part at home.